Overview
Maximum Continuous Rating

600 kW @1.0pf

Fuel Type

Natural Gas, Biogas

Maximum Electrical Efficiency

43.3% / 42.4%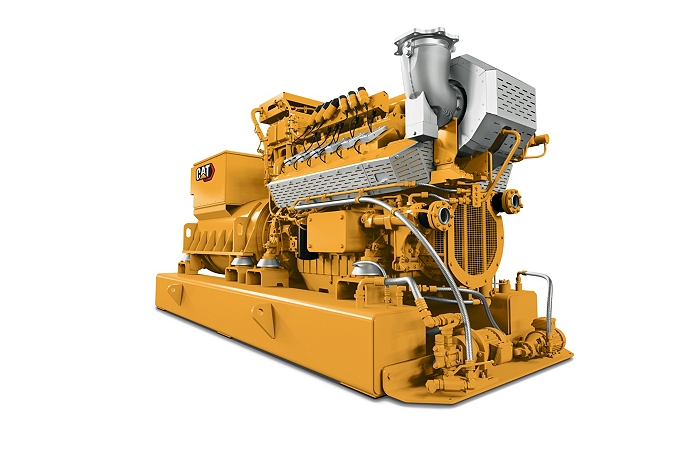 The Cat CG132B family of gas engines are perfectly tailored to the challenges of the power plant in an age of global value chains.<br>
<br>
Highly efficient with low operating and installation costs and lubricant consumption, the Cat CG132B gas generator set is available with outputs from 400kW to 800kW and comes with the Total Plant and Energy Management (TPEM) system.
Generator Sets Specification
Maximum Continuous Rating

600 kW @1.0pf
Generator Set Specifications
Fuel Type

Natural Gas, Biogas
Generator Sets Specifications
Maximum Electrical Efficiency

43.3% / 42.4%

Maximum Standby Rating

600 kW

Frequency

50 / 60 Hz

RPM

1500 / 1800 rpm
Engine Specifications
Engine Model

CG132

Displacement

1,605 in³

Aspiration

TA

Bore

5 in

Stroke

6 in
Generator Set Dimensions
Length

151 in

Width

70 in

Height

85 in

Dry Weight - Genset

15,432 lb
High Efficiency, Lower Operating Costs
Highest efficiency in its output class.
Up to 42.5% improved electricl efficiency.
Low installation, Building and Operating Costs
Compact design with integrated fuel tanks for daily refilling.
Lower setup costs than comparable engines.
Reduced investment costs through expanses product scope and TPEM digital control system
Long maintenance intervals (up to 80,000 hours)
Optimized oil management
Compact design with integrated fuel tanks for daily refilling.
Lower setup costs than comparable engines.
Reduced investment costs through expanses product scope and TPEM digital control system
Long maintenance intervals (up to 80,000 hours)
Optimized oil management
Optimized Lubrication Consumption
Consumes less than 0.1g/kW of oil
Up to 66% lower lubricant consumption than comparable models
Longer lubricant change (up to 4,00 hours) and oil change intervals
Consumes less than 0.1g/kW of oil
Up to 66% lower lubricant consumption than comparable models
Longer lubricant change (up to 4,00 hours) and oil change intervals
Flexible Fuel Usage
Our gas-mixer technology and Total Electronic Management System let you use a wide variety of gases, including problematic gases like digester, landfill and sewage gases
Our gas-mixer technology and Total Electronic Management System let you use a wide variety of gases, including problematic gases like digester, landfill and sewage gases
Flexible Fuel Usage
Our gas-mixer technology and Total Electronic Management System let you use a wide variety of gases, including problematic gases like digester, landfill and sewage gases
Our gas-mixer technology and Total Electronic Management System let you use a wide variety of gases, including problematic gases like digester, landfill and sewage gases
Starting/charging

24V starting motors
Battery disconnect switch
Air Inlet

Mounting stand
Air cleaner with precleaner