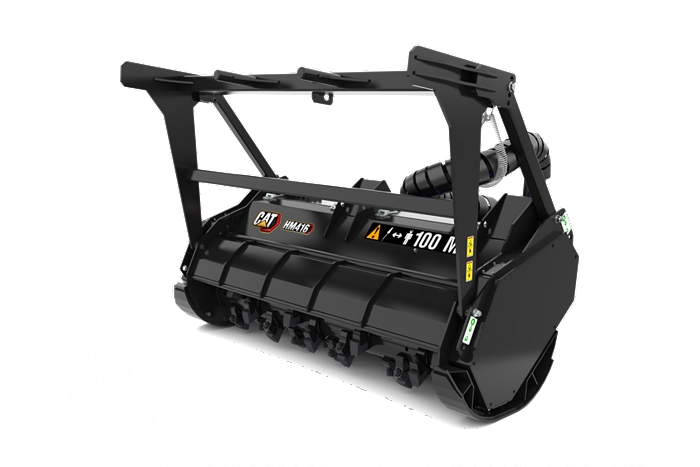 Dimensions
Working Width

67 in

Weight

3,197 lb

Drive Method

Polychain Belt

Overall Width

84 in

Length

53 in

Overall Height

58 in

Motor

Axial Piston Dual Speed

Optimal Hydraulic Flow

150-155 L/min (40-41 gpm)

Optimal Hydraulic Pressure

200-278 bar (2900-4061 psi)

Drum Speed

2140-2210 RPM

Fixed Teeth per Drum

38

Maximum Cutting Diameter

8 in

Required Hydraulics

High Flow XHP

Working Width

67 in

Overall Width

84 in

Drive Method

Polychain Belt

Fixed Teeth per Drum

38

Length

53 in

Maximum Cutting Diameter

8 in

Optimal Hydraulic Pressure

200-278 bar (2900-4061 psi)

Overall Height

58 in

Weight

3,197 lb

Required Hydraulics

XHP / XE

Maximum Cutting Depth

4 in
Application
Use Mulchers for brush clearing, vegetation management, reclaiming untitled land, environmental maintenance, shredding pruned material and organic waste for biomass production.
High Performance Mulching
Designed for high-performance cutting, and mulching vegetation and undergrowth from typical wooded terrain. Reduces saplings, shrubs and trees into mulched material.
Rugged Mulching Head
Rugged mulching head processes trees up to 200 mm (8 in) diameter for effective land clearing applications.
Dual Speed Hydraulic Motor
Dual speed, axial piston motor provides smooth, efficient performance while delivering optimal torque under changing material loads.
Adjustable Push Frame
Standard adjustable push frame allows for control of trees for optimal cutting and efficiency. Low profile design improves operator visibility and pin-style segments provide the opportunity to control which section of teeth are cutting, improving tooth life.
Color-Coded Pressure Gauge
Color-coded pressure gauge is standard equipment that provides operator feedback in order to maximize productivity. With green, yellow, and red regions, the operator has indication of the load being applied to the mulcher and if adjustments can be made to maximize productivity in changing material loads.
Hydraulically Operated Front Hood
Hydraulically operated front hood is standard. Linkage is enclosed within mulcher frame on High Flow models. Quick to open and close door allows for finer finished material to be produced from cutting all types of vegetation.
Rear Chain Guard Protection
Rear chain guard protection reduces spread of material.
Serrated Steps
Serrated steps allow for safe and easy access in and out of the cab.
Lockable Service Panel
Hinged and lockable service panel allows easy access to hoses. Lockable with your Cat key, the service panel allows easy access to drive train components during service and inspection.
Adjustable and Replaceable Skid Shoes
Adjustable and replaceable skid shoes allow operator to control the ground height to accommodate different types of terrain.
Tool Mounted Operation and Maintenance Manual (OMM) Holder
Located inside the lockable service panel and sealed from the elements, this holder includes all of the operation manuals and maintenance guides required for proper operation of the work tool.
Multiple Teeth Options
Select from Standard Carbide, Rock Resistant, Chisel, and Side Cutter options to configure the C Series Mulcher to any underfoot or vegetation condition.