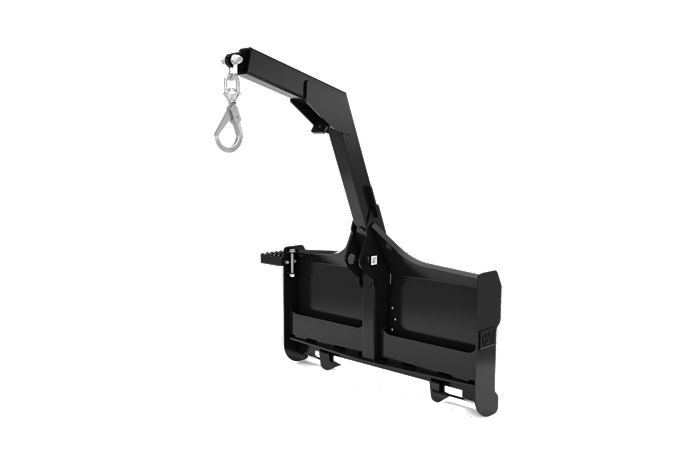 Dimensions
Overall Width

52 in

Weight

280 lb

Height

58 in

Length

40 in

Load Length (end point)

30 in

Load Length (mid point)

12 in

Rated Structural Capacity

2,000 lb

Maximum Reach (horizontal)

84 in

Length

40 in

Load Length - End Point

30 in

Load Length - Mid Point

12 in

Rated Structural Capacity

2,000 lb

Maximum Horizontal Reach

84 in

Coupler Interface

SSL

Overall Width

52 in

Weight

280 lb

Height

58 in

Length

40 in

Maximum Load Rating

2,000 lb

Overall Height

58 in

Overall Length

40 in

Interface Type

Skid Steer Coupler

Overall Width

52 in

Maximum Load Rating

2,000 lb

Maximum Horizontal Reach

84 in

Weight

280 lb

Overall Height

58 in

Retracted Length

40 in

Interface Type

Skid Steer Coupler
Application
Designed to pick up, carry and load a variety of materials and equipment. Also well suited for loading, carrying and setting trees and large shrubs in landscaping applications.
Multi-Angled Boom
Single, multi-angled boom provides excellent visibility to the load.
Two Lift Points
Two lift points, one at the far end of the boom and one closer to the machine mid point, offer excellent reach plus load and carry capabilities.
Two Storage Compartments
Two compartments on the front arm provide ample storage for chains and hooks.
Dual Tie-Down Holes
Dual tie-down holes provide load support during transport.
Heavy-Duty Locking Clasp
Heavy-duty locking clasp swivels a full 360° and can be used at either lift point.
Serrated Step
Serrated bolt-on step provides safe ingress and egress from machine cab and is replaceable if damaged.