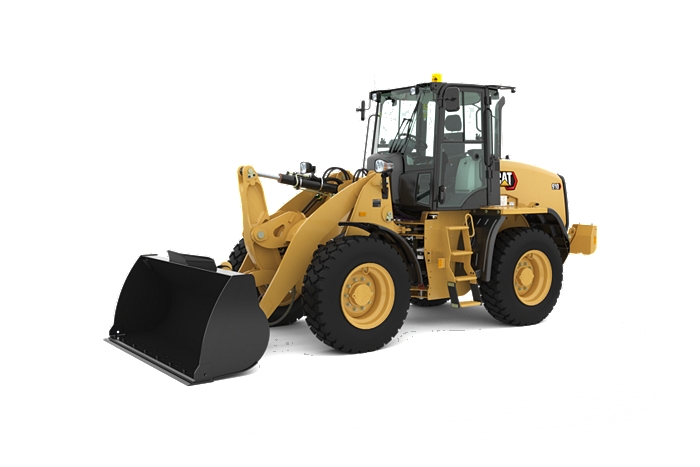 Engine
Maximum Net Torque - ISO 9249

327 ft·lbf

Maximum Gross Power

110 HP

Bore

4 in

Maximum Gross Power - Maximum Engine Speed

2,350 r/min

Maximum Gross Power - SAE J1995

111 HP

Maximum Gross Torque - SAE J1995

335 ft·lbf

Maximum Gross Torque - ISO 14396

332 ft·lbf

Rated Net Power - ISO 9249

98 HP

Rated Net Power - ISO 9249 (DIN)

99 HP

Stroke

5 in

Engine Model

Cat C3.6

Maximum Gross Power - ISO 14396

110 HP

Rated Net Power - Rated Engine Speed

2,200 r/min

Note

Net power advertised is the power available at the flywheel plus front drive implement pump when the engine is equipped with fan, air cleaner, muffler and alternator.

Rated Net Power - SAE J1349

99 HP

Displacement

220 in³

Maximum Gross Power - ISO 14396 (DIN)

111 HP

Emissions

Engine meets Tier 4 Final/Stage V emission standards.

Maximum Net Torque - SAE J1349

329 ft·lbf

Maximum Gross Power - Rated Engine Speed

1,800 r/min

Maximum Gross Power - ISO 14396 (metric)

112 HP
Weights
Operating Weight

18,102 lb
Buckets
Bucket Capacities

1.3-3.5 m3 (1.7-4.6 yd3)

Bucket Capacities - General Purpose

1.3-1.9 m³ (1.7-2.5 yd³)

Bucket Capacities - Light Material

2.5-3.5 m³ (3.3-4.6 yd³)
Steering
Maximum Working Pressure - Steering Pump

2,683 psi

Steering Articulation Angle - Each Direction

40 °

Steering Cycle Times - Full Left to Full Right - At 2,350 rpm: 90 rpm Steering Wheel Speed

3 s

Maximum Flow - Steering Pump

17 gal/min

Number of Steering Wheel Turns - Full Left to Full Right or Full Right to Full Left

4 turns
Loader Hydraulic System
Hydraulic Cycle Time - Dump, at Maximum Reach

1 s

Hydraulic Cycle Time - Total Cycle Time

13 s

Maximum Working Pressure - Implement Pump

3,408 psi

Relief Pressure - Tilt Cylinder

4,931 psi

Hydraulic Cycle Time - Rackback

2 s

Relief Pressure - Tilt Cylinder - 3rd Function Maximum Working Pressure

3,046 psi

Hydraulic Cycle Time - Raise, Ground Level to Maximum Lift

5 s

Maximum Flow - Implement Pump

32 gal/min

Relief Pressure - Tilt Cylinder - 4th Function Maximum Working Pressure

3,046 psi

Maximum Flow - Implement Pump - 4th Function, Maximum Flow

24 gal/min

Maximum Flow - Implement Pump - 3rd Function, Maximum Flow

24 gal/min

Hydraulic Cycle Time - Float Down, Maximum Lift to Ground Level

4 s
Service Refill Capacities
Cooling System

6 gal (US)

Fuel Tank

44 gal (US)

Hydraulic System - Including Tank

26 gal (US)

Hydraulic Tank

15 gal (US)

Transmission

1 gal (US)

Note

DEF used in Cat SCR systems must meet the requirements outlined in the International Organization for Standardization (ISO) standard 22241-1.

Axles - Front Center Differential

2 gal (US)

Axles - Rear Center Differential

2 gal (US)

Engine Crankcase

3 gal (US)

Diesel Exhaust Fluid (DEF) Tank

5 gal (US)
Transmission
Note

*Creeper Control allows speed control from a stand still up to 10 km/h (6.3 mph). The Creeper Control will only work in Range 1.

Forward and Reverse - Speed Range 3

25 mile/h

Forward and Reverse - Speed Range 2*

13 mile/h

Forward and Reverse - Speed Range 1*

6 mile/h
Tires
Note (2)

In certain applications, the loader's productive capabilities may exceed the tire's tonnes-km/h (ton-mph) capabilities.

Standard Size

15.5 R25 L2 XTLA

Other Choices Include

17.5 R25 L2 XTLA; 15.5 R25 L3 XHA2; 17.5 R25 L3 XHA2; 17.5-25 L2/L3 SGL; 17.5-25 L3 HRL D/L-3A; 17.5 R25 L2 Snow

Note (3)

Caterpillar recommends that you consult a tire supplier to evaluate all conditions before selecting a tire model.

Note (1)

Other tire choices are available. Contact your Cat dealer for details.
Cab
ROPS

ISO 3471:2008

FOPS

ISO 3449:2005

Note (2)

The declared dynamic operator sound pressure levels per ISO 6396:2008*, when the cab is properly installed and maintained, is 77 dB(A).

Note (3)

The labelled sound power level for the CE marked configurations when measured according to the test procedure and conditions specified in 2000/14/EC (as amended by 2005/88/EC) is 103 dB(A).

Note (1)

Cab and Rollover Protective Structures (ROPS) are standard in North America and Europe.

Note (4)

*The measurements were conducted with the cab doors and windows closed.
Axles
Front

Fixed; Locking differential (standard)

Rear

Oscillating ±11 degrees; Locking differential (Standard)
Sustainability
Recyclability

95%
Cat® C3.6 Engine
EU Stage V and U.S. EPA Tier 4 Final compliant.
Cat Optimized Z-bar Loader Linkage
The Cat Optimized Z-bar Loader linkage combines the digging efficiency of a traditional Z-bar with tool carrier capabilities for great performance and versatility. With parallel lift and high tilt forces throughout the working range you can safely and confidently handle loads with precise control.
Work Tools
The 910 features the Cat exclusive, Performance Series Buckets, as well as high visibility pallet forks. These tools enhance productivity and are available with either an Integrated Toolcarrier (IT) or ISO (wide) coupler style. Legacy coupler tools such as brooms, grapple buckets, multi-purpose buckets and other work tools remain compatible.
Hydraulics and Controls
State of the art electro-hydraulic system provides low effort, fine control with fast cycle times. All-in-one joystick helps keep eyes on the work. Operator can adjust machine responsiveness with the push of a button, which allows the operator to set up the machine exactly the way they want it based on the application.
Tuned Drivetrain
Smooth shifting and powerful acceleration is matched with modulated hydrostatic braking in the inching/braking pedal, creating a rhythm for material moving. Creeper and electronic engine speed control makes broom and snow blower work easy. Operator tunes between smooth or aggressive shifting with the push of a button.
Cab
All around visibility is further enhanced with the availability of a rearview camera. The deluxe cab ensures operator comfort with a heated, air suspension seat and easy to use controls. Available features such as Implement and Hystat Aggressiveness, Ride Control, Lift and Tilt Kickouts, Fork/Bucket Mode and Rimpull Control allow the operator to customize the machine via a soft touch keypad.
Serviceability
Extended service intervals and excellent service access make daily checks quick and easy allowing you to get to work sooner.
Efficiently Powerful
Efficiently Powerful with its high full turn tipping loads, powerful breakout forces and efficient engine power delivers a balanced solution for all customer applications.
Standard Fuel Savings Features
Standard Fuel Savings Features such as Eco Mode, On Demand Cooling Fan, and Auto Engine Idle Shutdown make the 910 both powerful and fuel efficient.